The meaning of Wu

In Zuo Zhuan, the earliest Chinese work of narrative history, a story in the Spring and Autumn Period (770-221BC), was recorded. After the defeat of the State of Jin by the State of Chu, the generals and soldiers were celebrating the victory. One minister, Pan Dang, asked the King Zhuang of Chu: "This battle has turned troops of Jin into corps scattering all over the wilderness. Our complete victory has awed the dukes and princes in the Central Plains. Your majesty, why don't you use this opportunity to build a high platform on top of the piled corpses to demonstrate the martial advantages and the power of our state?"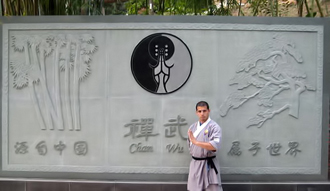 King Zhuang replied, smiling, "You are wrong, my minister. This is not the right way." With these words, he drew his sword and wrote the character Wu on the ground and said to Pan Dang, "Don't you see that the character of Wu consists of two parts? One is Zhi (

, meaning to stop) and the other is Ge (

, meaning war). The elimination of wars is possible only if the use of weapons is stopped permanently. This is the genuine martial advantage!"
The implication of the famous statement of Zhuang of Chu State has been developed by later generations. Many strategists and politicians successfully applied the thought of being martial without using weapons (

). It is also used to mean cease-fire between enemy states or recuperation from war calamity. Therefore, the composing parts of the character Wu and their literal meanings come to suggest that the ultimate purpose of martial art practice is not the use of it in fights but to strengthen the body externally and to attain wisdom and cultivate spirits internally. Hence, to win without using violence becomes the fundamental concept in the philosophy of Chinese martial art.