Grandmaster of Shaolin
Shi De Yang
Honorary Chairman of the International Chan Wu Federation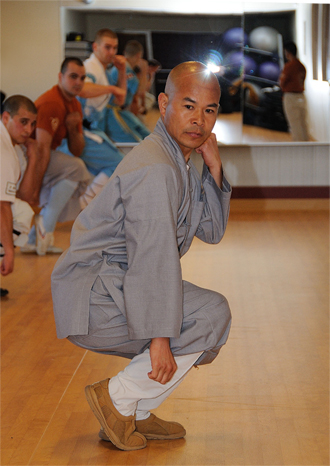 Known as the master of Shaolin traditional Kungfu forms, Master Shi Deyang started at the Shaolin Temple when he was 14 years old. He is the 31st generation descendant, Grand Master, and close disciple of the late Shaolin Temple Spiritual Abbot SUXI, the last and only Shaolin Warrior Monk Legend of the 20th century. (Shi De Yang is considered as the master of all masters today at the Shaolin Temple). He is the most well known Shaolin Grand Master of the Shaolin Temple in the world today. He is the head Master of the world famed Shaolin Warrior Team at the Shaolin Temple.
He is the president of Shaolin Warrior Preparatory team (SHAOLIN TEMPLE DEYANG KUNG FU SCHOOL). He is selected by Chinese Martial Arts organizations as the most popular and most respected Shaolin Master in China.
Grand Master, Shaolin monk of the 31st generation, Shi De Yang is globally considered one of the greatest present exponents of real Shaolin martial arts and Ch'an Buddhism.
Direct disciple of Shi Suxi, Shi De Yang is one of very few Shaolin Masters of recent generations to have studied in a profound manner all three treasures of Shaolin (Ch'an, Martial Arts, traditional medicine). This traditional knowledge, aptitude to studying and teaching, exceptional martial abilities and philosophical vision, have allowed him to have some of the more prominent roles in the Temple, from head of the warrior monks to transcriber of the ancient texts, from philosophy teacher to director of traditional Martial Art studies.
Books and documentaries have been made about him, however despite the international fame Shi De Yang continues to reside in the proximity of Shaolin temple, absorbed in his studies and teaching. To the activities at the Temple Shi De Yang has for some years added the management of his external school, which welcomes several hundred young students, often very poor, to whom he offers a study program that includes Chan, Martial Arts, and also general culture subjects.